Take control of your pond weeds! Every year about this time, ponds all over the midwest are overtaken by green stuff—Water Meal, Chara, Duck Weed, Filamentous Algae, Coontail, or even Cattails. Some pond vegetation is good. But, when plant material starts covering most of your pond's surface, bad things can happen. Too many pond weeds affect how your pond looks, how it functions as a fish habitat, and how healthy it is for recreation.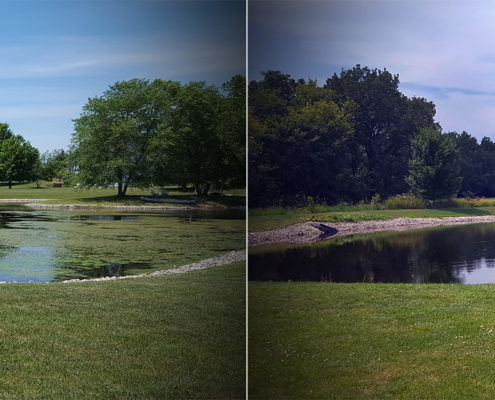 Bjornsen Pond Management can help keep your pond in good health! We have the products and expertise to help take control of your pond weeds. Check out our pond vegetation control products. PondFit Beneficial Pond Bacteria, aeration systems, and mechanical tools will help better your water quality. And, of course, you can always ask us specific questions online or call (319) 350-2918! We are always eager to help!
https://bjpond.com/wp-content/uploads/Filamentous-Algae.jpg
2864
4120
Kevin Bjornsen
http://bjpond.com/wp-content/uploads/2016/12/Bjornsen-Pond-Logo-Medium-1.png
Kevin Bjornsen
2020-07-13 18:26:30
2021-02-11 21:22:25
Take Control of Your Pond Weeds!